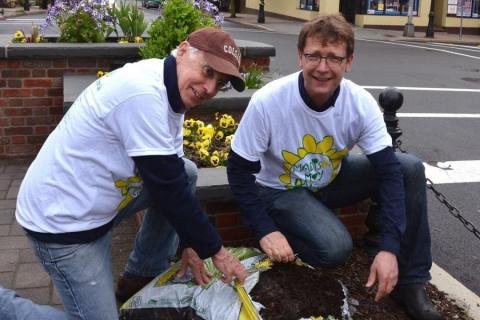 Madison, NJ News from the Republican party - Dr. Ronald C Hendrickson and Denis W. Schreiber are running as Republication candidates for Madison, NJ Borough Council in the 2017 Election.
"We are The New Madison Republicans, representing Madisonians of today." said Dr. Hendrickson and Mr. Schreiber in a joint statement. "The Madison Republicans are dedicated to moving Madison forward to ready itself for 2020 and beyond."
"We are excited and honored that these two fresh and talented Madison residents chose to serve Madison is this important way," remarked Tom Basta, Esq., Vice Chair for the Madison Republican Committee.
Both candidates have been regular attendees to Madison's Borough Council meetings.
Madison's Traditions Are Diverse And Welcoming
Hendrickson and Schreiber are running as a team for the two council seats in November. "We share a common vision for continuing Madison's long history of welcoming and being helpful to all, sustainable living, good stewardship and a balanced and transparent council," said Hendrickson and Schreiber at a recent neighborhood event.
The recent council resolution involving Welcome Community is a mystery to many. Denis Schreiber says. "The 2007 New Jersey Attorney General's law guides all law enforcement professionals. The guidelines are clear. The Mayor's February 6, proclamation is confusing and contains contradicting statements." Hendrickson added, "Let's keep in mind that Madison has a history of helping thy neighbor, assisting newcomers, caring, and loving since the early 1800s. How does one legislate kindness?"
Madison's Downtown Vitality is a Priority
"Given the emergence of "the Amazon.com economy," it is important to create an inviting, healthy and satisfying downtown experience for all to enjoy." Many storefronts are empty and have been so for some time. "We want to see a revitalized and well maintained Madison, NJ historic downtown."
"There are some great solutions out there, we need to look carefully and think outside the box," says Dr. Hendrickson. The historic downtown Madison, NJ downtown is an ecosystem that needs to be kept healthy."
Downtown Parking Facility Will Help Revitalize Downtown
"Madison can assist the resident, consumer, visitor and commuter by building an architecturally beautiful parking facility and create a valuable revenue stream as well," says Schreiber. "It would be an annuity for decades to come like our water and electric utilities are."
Madison has a beautiful historic and completely revitalized train station, an effort spearheaded by Joseph Falco and Mayor Gary Ruckelshaus a decade ago. With predictable parking availability, commuters who live in neighboring communities would be drawn to our historic downtown."
"As we think about collaboration and working together, I'd like to see some creative efforts to build additional links between our fantastic public library, the local schools, and neighboring universities," says Dr. Hendrickson. "When I'm elected I'll spearhead a STEM initiative in collaboration with the Library, Madison Public Schools and local universities that includes a robotics competition and 3-D printing for our youngsters and middle school students."
"The Borough Council recently passed the 2017 Budget, and while tax increases have been kept low, I do think we need to reconsider how the electrical utility revenues are utilized. I am concerned about Madison's continuing dependence on variable revenues to fund a large portion of the Borough's budget," Schreiber recently stated.